JXB Feed through terminal blocks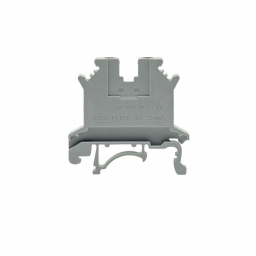 Min.: 50
The color is gray. Rated current 57 A.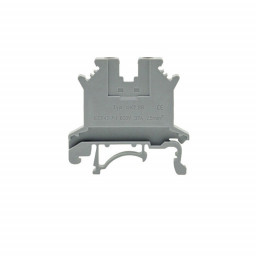 Min.: 50
The color is gray. Rated current 41 A.
JXB feed-through terminal blocks are small, but extremely useful wiring accessories. They are widely represented on the Ukrainian market.

Purpose and installation of JXB type terminal blocks
These devices are designed for the convenient and safe installation of electrical wires and cables of different diameters in distribution boards. Usually, they are mounted on DIN rails, the profile width of which does not exceed 35 mm, the length of the DIN rail is any. Designed for voltages up to 750 V.
These terminal blocks have special clamping plates. With the help of screws that are located on these plates, the necessary conductors are fixed. The so-called terminal row is formed from left to right or from bottom to top, and the terminals, in turn, are located on the DIN rail itself with an open part to the right or up. The open part of the clamp at the end of the row should be covered with a side panel.
In Ukraine, most of the terminal blocks are already pre-equipped with a special marking tag for numbering. If necessary, you can purchase markings from us separately.
Material of screw terminal blocks for DIN rails
They are made mainly in plastic, carbolite or nylon cases, which contain the main component - the contact group. This is a mechanism that connects wires using a metal part.
Efficient operation (that is, the absence of electrical losses and heating) through terminal blocks is ensured by a rational combination of the metals of the contact group and the conductor. For example, a combination of aluminum and brass will provide good contact.
Lubricants are used to prevent the formation of oxides.
Advantages of DIN rail screw terminals
Ensure stable and trouble-free operation of electrical circuits.
They have a simple design, easy to install.
Easy to distinguish as are marked on the body of the limiting current and voltage.
Dial-up type. Suitable for DIN-rail of any length.
To buy JXB feed through terminal blocks in Ukraine, please contact our Osnova-Market company. We provide excellent prices for wholesale buyers. We will provide delivery throughout Ukraine. The warehouse is located in Kharkiv.