Busbar connector – MCB connector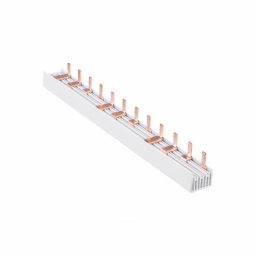 Min.: 3
Pin connecor busbar RZ SPP3/100 belongs to the components for assembling switchboard and switching e..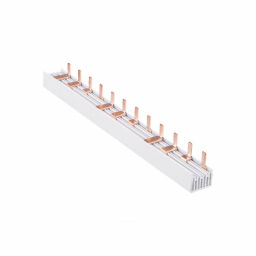 Min.: 3
Busbar connector pin type RZ SPP3/63 is one of the components for assembling switchboard and sw..
Busbar connector refers to consumables for electrical work that are used in the assembly and installation of electrical cabinets, control panels, distribution boards, etc.
Design of phase busbar connector
Composed of a copper plate, which is usually placed in insulation. The insulation is predominantly made of plastic, which is fire retardant. The connection of equipment in the panel is carried out using special elements – taps connected to the aforementioned plate. The number of such plates should be equal to the number of poles in the circuit.
Types of busbar connector for shields
There are the following types of busbar connectors.
– By the step size.
There are tires with so-called. step of 18 mm and 27 mm. The purpose of the 18 mm ones is to connect AB, the width of which is equal to a full-fledged module. And 27 mm, respectively, is the width of one and a half modules. This is very important, so you should pay attention to this feature when choosing the right product.
– By the number of poles.
Patching buses are conventionally divided into one-, two-, three- and four-pole. Each type has its own specific purpose. So, a single-pole bus is very often used for mounting switches of one phase. Bus 3-phase distribution used in the arrangement of power electrical cabinets for 380 V.
– By the shape of copper taps.
The number of such structural elements as taps can vary from 12 pcs. up to 60. Therefore, the use of such devices for a pair of machines is impractical. Taps in shape can be straight (pin, pin marking) or forked (fork marking). The comb-type pin tires are much more common in Ukraine since no additional clamps are required for their use. Their cost is quite affordable. Basically, the cross-section of the clamps is 16 mm sq. Such an area is enough to withstand loads up to 65 Amperes.
Advantages and disadvantages of copper connecting buses for circuit breakers and RCDs
MCB has a number of significant advantages.
Provides connection of switching equipment at a higher level quality. In the event that the connection is carried out by both cables in only one separate terminal, the use of a connecting bus will reduce this number by half, thus having a positive effect on the contact power between the components.
Withstands amperage up to 63-65 A, which when creating a loop manually, is extremely difficult to achieve.
Allows you to complete the contents of an electrical panel, box or cabinet in Ukraine neatly and compactly, which will affect its aesthetic perception.
Among the disadvantages are the following.
It is not always possible to connect equipment from different manufacturers. This is due to the fact that there are no standardized sizes and manufacturers produce equipment in different sizes. As a result, sometimes the tap may not always reach the connector for connection.
If you need to replace one of the machines, you will have to disassemble the entire shield, otherwise, the problematic equipment simply cannot be removed.
Thus, the CB is good quality a way to simplify the connection of conductors to electrical equipment.
To buy busbar connector in Ukraine in bulk, you can place an order on our website. Methods of payment here. For all questions, please contact our managers. We will perform fast delivery across Ukraine.