Industrial wheels for trolleys and shop equipment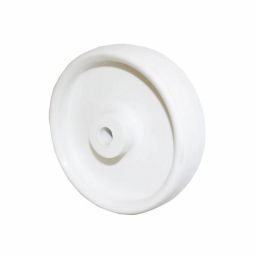 Min.: 30
Wheel diameter 80 mm. Without sleeve bearing. Without bracket. White color.
Industrial wheels are classified as hardware for industrial cabinets. The materials used in their production allow them to be used in various conditions, under different loads, in aggressive environments, etc.
Where are industrial wheels used
These products are used in Ukraine in various mobile equipment and transport: hydraulic carts, stackers, loaders, various kinds of trade equipment, etc. Their carrying capacity can vary from 10 kg to 20 tons. The permissible temperature range is from - 40 to + 500 ⁰С.
Wheel design
The products include the following structural elements.
Tire. Depending on the material of the tire, there are pneumatic, cast rubber, heat-resistant, polyurethane, etc. wheels.

Disc. The disc is the base of the wheel. Materials used:
– polyamide: load capacity up to 1 ton, in a wide temperature range;
– polypropylene: in light industry, for light-duty equipment;
– aluminum: load up to a ton, temperature range from -40 to +400 ⁰С;
– cast iron: weight up to 7 tons, temperature from -100 to +500 ⁰С;
– steel: for moving machines weighing up to 7 tons;
– phenol: maximum weight 350 kg, temperature from -40 to + 300 ⁰С, used in bakeries, ovens, refrigerators, etc.
Bearing. In the manufacture of industrial wheels in Ukraine, the following types of bearings are used:
– sliding: resistant to corrosion processes, used at low speeds;
– roller: used at low load;
– ball: for heavy loads.
Bracket. Depending on the planned loads, these elements are manufactured in different ways. So, for industrial wheels designed for high loads, in order to ensure special strength, the bracket is made of pressed steel. For other wheels - by casting.
Brackets can be swivel (allow the wheel to rotate around its axis) and non-swivel (fix the wheel, providing a clear direction of movement).
Braking system

Divided into two types:
Behind. Such a system prevents rotation by closing. It can also lock the pivot assembly using form-fit. It is extremely reliable and stable. You can buy industrial wheels with a system of this type on our website for wholesale orders.
Ahead. It also prevents rotation, but it is located in the front. It also differs in that it is possible to adjust the applied effort.
You can easily buy industrial wheels in Ukraine from us, in the Osnova-Market company. On our website, you can order goods at wholesale prices.
Delivery is done using reliable transport services throughout Ukraine. It is possible to take out goods from a warehouse in Kharkiv.